Top Sellings
Sale

Sale

Original price

$127.99

-

Original price

$127.99

Partially assembled. Minimum assembly efforts required in 3 easy steps. This end table is a stylish sidekick for any sofa, bed, little-used corner...

View full details

Original price

$127.99

-

Original price

$127.99

Sale

Sale

Original price

$259.99

-

Original price

$279.99

This product comes fully assembled and ready to serve right out of the box. Save all efforts to study complex manuals and fight with misaligned ho...

View full details

Original price

$259.99

-

Original price

$279.99

Sold out

Original price

$153.99

-

Original price

$154.99

Bring glamour bedside with this end table, a stylish piece suited for on-trend spaces. Its streamlined silhouette is fitted with mirrored panels f...

View full details

Original price

$153.99

-

Original price

$154.99

Sale

Sale

Original price

$109.99

-

Original price

$109.99

Partially assembled. Minimum assembly efforts required. This nightstand/end table will always keep your essential items within arm's reach. Featur...

View full details

Original price

$109.99

-

Original price

$109.99

Sold out

Original price

$159.99

-

Original price

$179.99

Lightly distressed with an air of industrial history, this lovely nightstand is a beautiful tribute to the past with a distinctly organic feel. Na...

View full details

Original price

$159.99

-

Original price

$179.99

Sold out

Original price

$148.99

-

Original price

$178.00

The drawer top comes fully assembled. Only need to put on four legs within minutes and this nightstand is good to serve. Feature high quality MDF...

View full details

Original price

$148.99

-

Original price

$178.00
View All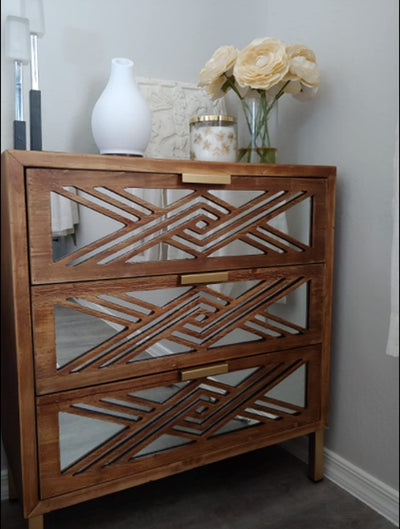 Just unpacked my cabinet and it's absolutely beautiful. The color is like a pecan which is just what I wanted and the mirror accent is just enough. It's very sturdy and closes perfect. I read some reviews that said it closed uneven. Mine is perfect and I love it . The price was good too.




Elaine



Suuuuper cute and a great value! I bought a pair and they completed my bedroom perfectly. I smile every time I walk into the room. Soo pleased. :)



Kristy


I was a little concerned about the this wood product would , but it arrived in great condition, being packed up tight and with cushion to protect it.The divider is sturdy and easy to move. It looks great and is better than I expected!
Pam